June 2019 Newsletter
WELCOME
Thanks to all the craft brewers who stopped by the Ardagh Group booth to visit BOB during the 2019 Craft Brewers Conference. We enjoyed watching all of you spin our roulette wheel to win some amazing prizes. Check out some of the photos here.
BOB also enjoyed hearing your thoughts on what bottles you want to see added to our online portfolio. Stay tuned for new product updates later this year!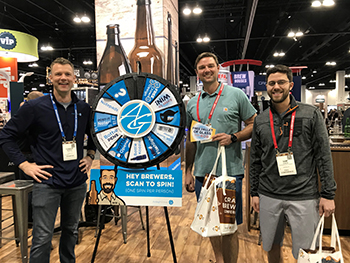 Cheers!
EVENT UPDATES
One thing that I've learned about craft beer is the joy of sharing my passion with others by joining state Craft Beer Guilds. Through these valuable resources, I've explored craft beer in a whole new way and interacted with others that share the same love of craft beer. So far this year, I've attended the Virginia, Texas, Ohio and Michigan craft beer guild trade shows.
BOB would love to meet you at an upcoming guild event in your area! If you'd like to learn how we can partner together, send BOB an email at Marketing.Glass.NA@ardaghgroup.com so we can meet in the near future.
BLOG FEATURE
In a previous blog, I introduced you to Courtney Lambert, whom many of you know from working with her the past several years. Courtney has accepted a new position as a National Account Manager within Ardagh Group, so you will still get to work with her, as long as you are buying glass bottles from BOB.
I sat down with Kristen Revis, Customer Account Coordinator, to find out a little bit about her, since she will be your BOB contact going forward. Some of you may already know her, since she's been working on the BOB site since June.
Read BOB's blog to learn more about Kristen.