March 2017 Newsletter
WELCOME
What a busy year it's been so far! BOB is looking forward to seeing all of you craft brewers at the
Craft Brewers Conference
in Washington, D.C. BOB will be giving away some great prizes in booth #1935, including $100 and $250 Amazon gift cards. Stay tuned to BOB's
Twitter
for details on our CBC prize giveaways. But, before we catch up at CBC, BOB wanted to take a minute to share some exciting updates with you!
What's New on BuyOurBottles.com
Coming Soon – 750ml Belgian Crown Bottle
You asked for the 750ml Belgian bottle with a crown finish, and BOB listened. Within the coming weeks, BOB is planning to debut his new bottle. Check back at
www.buyourbottles.com
for updates!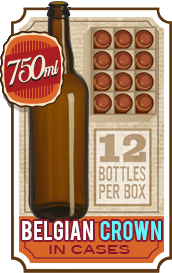 We hope you'll take a moment to check out these updates on our website. Or, maybe we'll run into you at CBC! Cheers!
BLOG FEATURE
In January, New Glarus Brewing Company announced an agreement for its 12 oz glass bottles to be produced by Ardagh Group's Burlington, Wisconsin manufacturing facility, a mere 90 miles away from the brewery. Check out
BOB's blog
to learn more about what this means for the state of Wisconsin.
BREWERY FEATURE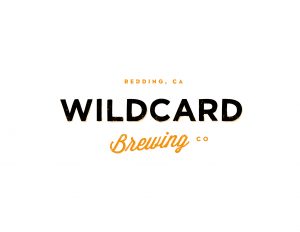 Wildcard Brewing Company
's story began when Jeff and Jenny Hansen brewed two beers to give away as wedding favors at a brewery in San Luis Obispo where they went to college. Homebrew projects ensued in the years following. A casual passion soon turned into a career as Jeff announced to Jenny that he had quit his job and had been accepted to brew school. You could call Jeff and Jenny crazy, adventurous and unpredictable....a wildcard. Their story is one of the unexpected; a place where there are no limits, where perseverance and a free spirit turn dreams into reality. Wildcard Brewing Company opened its doors in November of 2012 with 4,200 square feet of open warehouse space, a 10-gallon pilot system and a small, bare bones tasting room. For a year, the brewery serviced local accounts through a contract brewing relationship. It wasn't until September of 2013 that they revealed a 15-barrel production brewery. Once 100 percent of the production was in house, Wildcard Brewing Company was able to expand to other surrounding counties and began bottling product. Growth has continued at a rapid pace, adding to the chaos and Wildcard spirit. Today, Wildcard remains a small, regional brewery.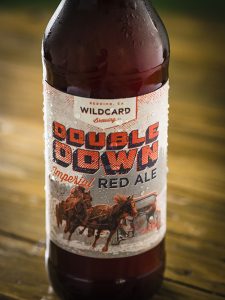 Wildcard strives to source products as close to our brewing facility as possible. Working with Ardagh Group fit that bill. "It was an added bonus to discover, as our relationship developed, that Ardagh Group excels with outstanding customer service," said Jeff Hansen, Co-Founder / Brewmaster at Wildcard Brewing Company. "For us, it is the ease of ordering that makes them the vendor for our production needs. It is convenient to be able to order online at any time and, as a small business, that can sometimes be at off-hours when other companies wouldn't be available to get an order submitted."