BOB recently hit the road for an event he'd been working on with the
North Carolina Craft Brewers Guild
. During the
event
, hosted at the
Ardagh Group
glass manufacturing facility in Wilson, N.C., he met some amazing people who are making differences in their communities. One of those people is Wendy Worley, Recycling and Materials Management Section Chief for the North Carolina Department of Environmental Quality. Wendy shared some details with BOB about an interesting program that brewers can join.
NC GreenTravel Initiative
, an outreach program of the North Carolina Division of Environmental Assistance and Customer Service, features sustainable breweries and other travel-oriented businesses for their environmental sustainability efforts. The no-cost, non-regulatory recognition program awards breweries with certificates of sustainability, promotional decals and free listings on the NC GreenTravel website and map.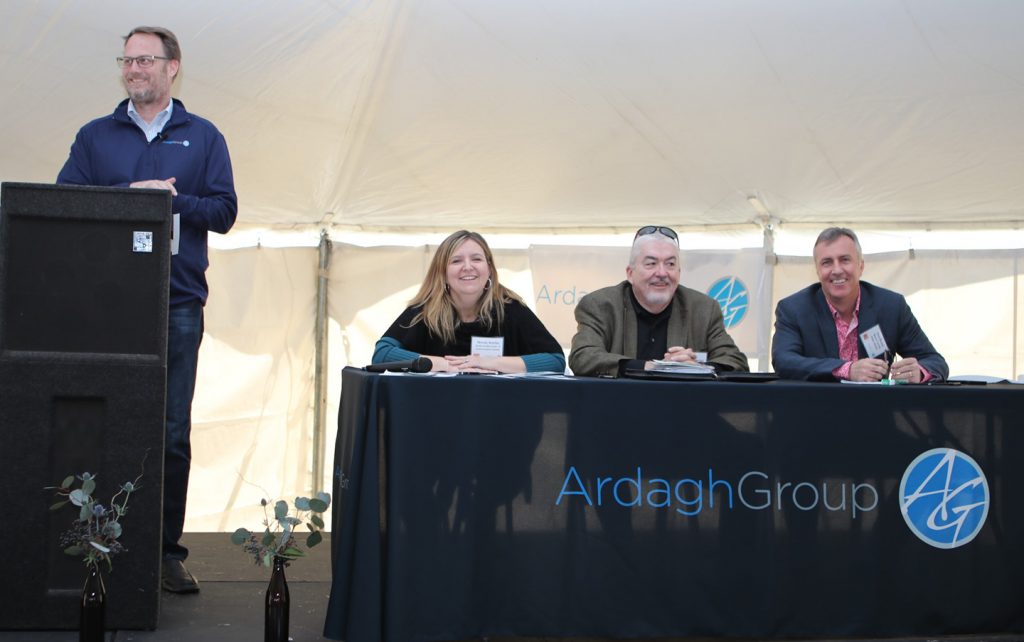 Photo taken during the Sustainable Brewing & Packaging Event at Ardagh Group's glass manufacturing facility in Wilson, N.C. Pictured from left to right: John T Shaddox from Ardagh Group, Wendy Worley from the North Carolina Department of Environmental Quality, Bill Clark from Strategic Materials and Chad Beane from Moore County Public Works. "Our office works with companies across the state to expand the use of sustainable practices and recognize leaders in environmental stewardship," said Worley. "Bull City Burger and Brewery of Durham, a member of the NC GreenTravel Initiative, and other craft brewers in attendance at the Ardagh Group event make a positive impact on North Carolina's environment and economy." Achieving one of the state's highest NC GreenTravel ranking, Bull City Burger and Brewery installed energy efficient lighting and equipment, reduced waste by recycling materials and composting food waste, and provides spent grain to animal feed – to name a few of the company's environmental accomplishments. "North Carolina craft brewers are leaders in sustainable business practices," Worley said. "I applaud the industry for their environmental commitment and positive impact on North Carolina's local economy." Breweries interested in NC GreenTravel can apply for recognition as sustainable destinations by visiting www.ncgreentravel.org and downloading a free application. Applicants also receive environmental technical assistance by request at no cost. Every glass bottle manufactured by Ardagh Group is made from 100% natural, sustainable raw materials – recycled glass, limestone, soda ash and silica sand. Glass has been and will always be 100% infinitely recyclable without any loss of quality and purity, and glass recycling is a closed-loop system, creating no additional waste or by-products. BOB had a wonderful time at the event and spent some time enjoying some great food and great craft beer at the Brewers Social at 217 Brew Works. If you didn't get a chance to attend this year, look for future events similar to this one coming to your neck of the woods. And, if you met with BOB at the event, don't forget to use your 10% off coupon to purchase your next pallet of glass beer bottles from BOB. Cheers!