By: Paula Polei Pumpkin beer is as quintessential to fall as festivals, candy corn, jack-o-lanterns and falling leaves. I have to admit, I love this time of year. Nothing excites me more than hoodies, football and scary movies. In past years, my typical fall consisted of getting dressed up in some ridiculously uncomfortable costume and drinking stale keg beer in a barn somewhere in the middle of nowhere Indiana. But, this season, I'm protesting. I will enjoy awesome pumpkin-flavored bottled craft beer from the comfort of my living room couch.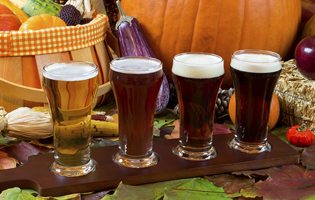 Pumpkin Beers: Trick or Treat?
If you've never ventured out into the realm of pumpkin-flavored beer, it's time to do so. Next time you're at your local beer store, take a look around and you'll notice shelves full of imperial pumpkin ales, pumpkin stouts and porters. In fact, the first batch of pumpkin beer was brewed in 1985 by Bill Owens, then-owner of
Buffalo Bill's Brewery
in Hayward, California, using a gourd from his own yard. Finding the result not so flavorful, he added pumpkin pie spices like cinnamon and cloves until the batch was just right, naming it America's Original Pumpkin Beer. Today, pumpkin brews range from very sweet to the more subtle offerings. They can feature various spices, including cinnamon, cloves, nutmeg, all-spice and ginger. You can also find yams, sweet potatoes, chocolate, coffee or peaches in the mix. They are brewed within almost every style available, and the ABV levels range from 5 percent to over 10 percent. Since the variety of pumpkin-flavored beer varies from region to region, here are a few recommendations you might consider trying, if they are available in your neck of the woods:
Smuttynose's Pumpkin Ale
– This refreshing pumpkin ale is blended with real pumpkin and classic pumpkin pie spices, including natural pumpkin purée, cinnamon, nutmeg and cloves. At first taste, you'll notice some bitter herbal hop notes, then you'll detect mellow malt, spices and pumpkin. You'll get a nice sweetness from the malt, but it will leave a nice hoppy flavor on your tongue.
Schlafly's Pumpkin Ale
– This tasty brew is basically pumpkin pie in a bottle. This pumpkin ale is brewed with pumpkin and butternut squash and spiced with nutmeg, cloves and cinnamon. It has a nice, smooth flavor, so even when drinking a few of these, you won't feel like your taste buds have been coated in pumpkin spice.
Southern Tier Brewing Company's Pumking
– This imperial pumpkin ale is brewed with pumpkin, vanilla, allspice, cinnamon and nutmeg. At first taste, you'll recognize vanilla, brown sugar and caramel sweetness, with hints of cinnamon and nutmeg. You'll also notice a lemon flavor, giving it a unique, well-executed twist. This is a big, heavy beer, but it has a very thin mouth feel.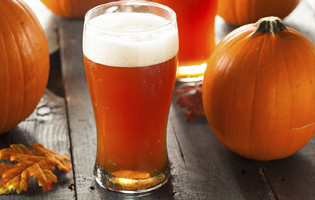 Whatever pumpkin-flavored beer you decide to enjoy this fall, you be the judge of what tastes best. Don't let others fool you into believing something until you've had the opportunity to sample it yourself. No matter what your flavor preference, there's a version of this seasonal drink for everyone. I prefer to drink my pumpkin beer with graham crackers, or top it with a sprinkle of cinnamon. It truly tastes like pumpkin pie in a glass bottle – delicious! Happy fall y'all.