On the seventh day of Christmas, my craft brew love gave to me...
750's Filling!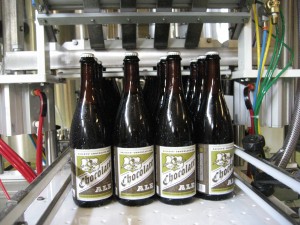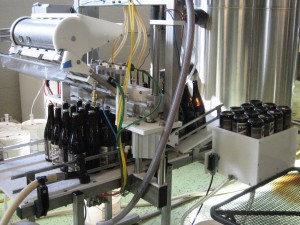 At 750ml and 5.5 VOC, BOB's Celebration bottles are built to handle some of the most robust brews out there. Perennial Artisan Ales of St. Louis, MO uses the Celebration bottle exclusively to bottle their year-round and seasonal brews, including (but not limited to):
Abraxas
Mexican Chocolate Stout (10% ABV)
Hommel  Bier
Dry-hopped Belgian Pale Ale (5.9% ABV)
Heart of Gold
Big Wheat Ale (10% ABV)
Saison de Lis
Farmhouse Ale with Chamomile (5% ABV)
Peace Offering
Brown Ale with Squash and Spices (6.2% ABV)
Vermilion Winter Ale
English Style Barleywine Ale (10.2% ABV)
Brew 4 the Crew
Oktoberfest Lager (5.7% ABV)
IPA #4
Double IPA (10.5% ABV)
Aria
Belgian Style Ale (7% ABV)
Above, Perennial's crew is bottling their latest batch of Bailey's Chocolate Ale.