On the fourth day of Christmas, my craft brew love gave to me...
4 Bottle Styles!
[caption id="attachment_115" align="aligncenter" width="300"]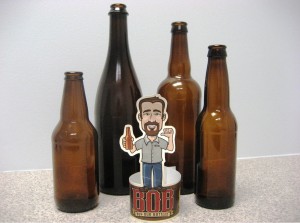 BOB keeps great company, doesn't he?[/caption]
They're not quite Dasher, Dancer, Prancer, and Vixen, but Heritage, Pinnacle, Bomber, and Celebration are a close second. Whether you need 750s for sharing, 22s for a premium look, or single-serving 12oz bottles, we've got you covered this holiday season. As a matter of fact, why not see how your prized brew looks in all 4 styles? Regardless of the bottle you choose, you can be sure you're getting a quality product every time.