On the eleventh day of Christmas, my craft brew love gave to me...
11 Pallets Prepping!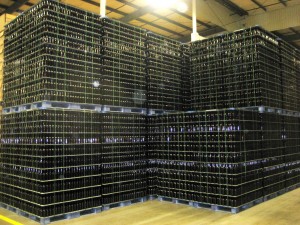 BOB's bottles are palletized and shipped with the utmost care and concern for your craft brewery. We ship our cased items on sturdy 48X40 pallets and our bulk items on wider 56X44 pallets. The wider pallet allows us to fit more bottles per layer. Doing so produces shorter stacks, making it easier and safer for brewers like you to unload the bottles when they arrive. We tightly wrap all of our pallet shipments in layers of plastic for stability, and we also include a corrugated wrap on our bulk items for added protection during transport.