By: Paula Polei It is a well-known fact that
New Glarus Brewing Company
's craft beer is only sold within the state of Wisconsin. But now, the 12 oz. glass bottles for its beer will also be only from the Badger State. Recently, New Glarus announced an agreement for its glass bottles to be produced by
Ardagh Group
's Burlington, Wisconsin glass manufacturing facility, a mere 90 miles away from the brewery.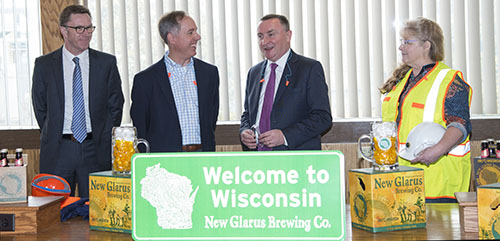 Pictured, from left to right: Alex Robertson, Chief Commercial Officer for Ardagh Group, Glass – North America; Robin Vos, Wisconsin Assembly Speaker; John Riordan, President & CEO for Ardagh Group, Glass – North America; and Deb Carey, Founder & President of New Glarus Brewing Company.
Founded in 1993 by Deb and Dan Carey, New Glarus has made the Inc. 5000 list of fastest growing companies 10 years in a row and, as of 2015, is the 20th largest craft brewery in the country. New Glarus produces about 215,000 barrels of beer a year, and at its peak in summer goes through more than one million bottles a week. All of this has been accomplished while selling beer only in Wisconsin.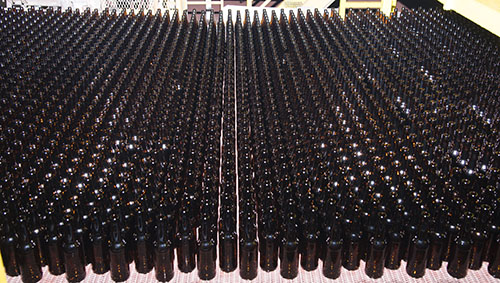 BOB's Top Three New Glarus Brews
Next time you are in the state of Wisconsin, BOB urges you to try one of New Glarus Brewing's delicious year-round brews.
1. Spotted Cow
New Glarus is probably most well-known for its
Spotted Cow
. It is rumored that Minnesotans are known to smuggle kegs of Spotted Cow across the border. If you are searching for something fun, fruity and satisfying, this Wisconsin-exclusive farmhouse ale is definitely a great starting point when drinking from the New Glarus beer roster.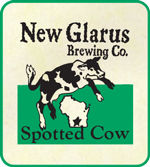 2. Moon Man
Another popular, year-round brew from New Glarus is
Moon Man
. Similar to other session beers, Moon Man can also
hang around
for a while. When you open this brew, you'll experience the daring, fruity aroma. Dubbed a "No Coast" Pale Ale, this brew is bold and engaging.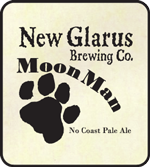 3. Wisconsin Belgian Red
This delicious beer is brewed with whole Montmorency Cherries, Wisconsin Farmed Wheat and Belgian Roasted Barleys, lagered in oak tanks and balanced by Hallertau hops that is aged in the brewery for one full year. With more than a pound of Door County Cherries in each bottle,
Wisconsin Belgian Red
is uniquely "Wisconsin." This brew is highly carbonated and has an intense, sweet cherry flavor.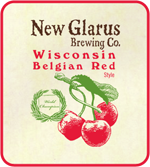 Seasonal Offerings
Depending on the time of year you visit Wisconsin, you might want to discover one of the great seasonals New Glarus has to offer. From
Cabin Fever
to
Totally Naked
and
Staghorn Octoberfest
to
Fat Squirrel
, there's something for everyone's taste buds to enjoy. BOB loves hearing success stories about craft breweries. And, he loves to hear about breweries purchasing glass bottles that are manufactured in the United States. Next time you are in the Badger State, stop by and grab a beer that's brewed and bottled locally in Wisconsin. Cheers!