By Paula Polei For professional brewers, the
Craft Brewers Conference
(CBC) is the only industry event that serves both brewpubs and packaging breweries. Bringing together more than 10,000 brewing industry professionals to enjoy the best craft brews, this year's event takes place April 14-17, 2015 at the Oregon Convention Center in Portland. To help you get the most out of your trip, BOB compiled a list of things to do while you're there.
Conferences and Sessions
Don't just walk the expo floor while you're at CBC. Take time to enjoy some of the sessions offered. Below are a few of BOB's suggestions.
Meet up with us
Take time out of your busy schedule to join BOB for a beer at our
Hospitality Suite on Wednesday, April 15 from 3:30 to 6:00 pm in rooms B117 - B119
. We'll be giving away great prizes every half hour!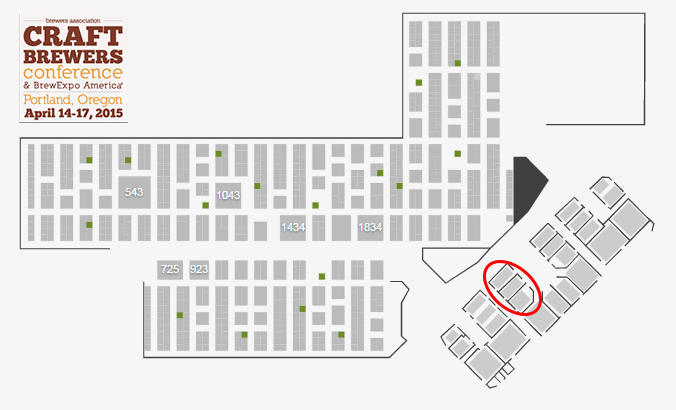 Craft beer wholesaler symposium
Join this event to learn about topics such as supplier-distributor interaction, logistics and warehouse, staff and business issues, information technology and sales strategy. This event requires separate registration and is limited to licensed beer wholesalers. For more details, visit the CBC
website
.
Time
: Monday, April 13 from 1:30 pm - 5:00 pm; Tuesday, April 14 from 9:00 am - 4:00 pm
Location
: Level 2 - Portland Ballrooms All
Assessing your markets: How do you truly know how your beer is doing?
This panel discussion provides insight into how to evaluate your business performance in varying marketplace conditions.
Time:
Friday, April 17 from 1:00 pm - 2:00 pm
Location:
Level 2 - Portland Ballroom 251 & 258
Speakers:
Dave Cole, Co-founder/Co-owner of Epic Brewing Company; Greg Dolan, Founder of Keen Strategy; Christopher Rice, President/Publisher at
All About Beer Magazine
; JB Shireman, Vice President of Craft Services at First Beverage Group
Beyond the daily grind: Community partnerships and sustainability
This session is a must join for those interested in connecting with your community on local issues and getting community members to understand your sustainability practices.
Time:
Friday, April 17 from 1:00 pm - 2:00 pm
Location:
Level 2 - Portland Ballroom 253
Speakers:
Matthew Bailey, Maintenance and Engineering Manager at Odell Brewing Company; Steve Beauchesne, CEO/Co-founder at Beau's All Natural Brewing, Andrew Lemley, Government Affairs Emissary at New Belgium Brewing Co.; Katie Wallace, Assistant Director of Sustainability/Purveyor of The Good Life at New Belgium Brewing Co. For the complete conference schedule, visit the CBC
website
.
Local Brewery Tours
Each year at the CBC, the Brewers Association helps conference attendees sample some awesome craft beer at local breweries as a fun side event. The sponsored tours are almost all sold out, so you better act fast. For a complete list of tours available, visit the CBC's
brewery tours
page.
Registration
is available online and prices range from $65.00 to $110.00.
Downtown Portland Events and Activities
During CBC, Portland has no shortage of events around town catering to visitors and lucky locals. Here are a few hotspots you might want to check out:
Dining
If you're looking for a great late-night dining spot, check out one of these:
Le Bistro Montage & La Merde Lounge is a reliable favorite, serving up Cajun-style fare like fried gator bites, buffalo mac 'n' cheese with blue cheese crumbles, and jambalaya with a choice of Louisiana meats. Le Bistro Montage is open until 2:00 am during the week and 4:00 am on Friday and Saturday.
Driftwood Room is a swanky, laid-back establishment, serving up sizzling forest mushrooms and Texas shrimp skewers. Driftwood Room is open Sunday through Thursday until 11:30 pm and Friday and Saturday until 12:30 am.
Sizzle Pie brings late-night pizza relief until 3:00 am on weekdays and 4:00 am on weekends, offering every kind of slice imaginable from cheesy, meaty, vegetarian and even vegan.
Brew 'n' View Theaters
Shows at Portland's beloved "brew 'n' view" theaters cost less than $10.00, and some even run less than the price of a pint. Here are a few in the area you might want to check out:
Living Room Theaters is a downtown art house that plays new indie and foreign films on six screens, and includes a gourmet menu and full bar.
Laurelhurst Theater is a Portland landmark that features nine beers on tap, fresh pizza and a steady stream of second-run and revival screenings in four auditoriums.
Academy Theater in Southeast Portland's Montavilla neighborhood features three screens with stadium seating, microbrews, wine and pizza.
Local Attractions
Here are a few must-see attractions in Portland:
Lan Su Chinese Garden: This authentically built Ming Dynasty style garden boasts covered walkways, bridges, pavilions and a richly planted landscape frame a picturesque lake in this urban oasis.
Pittock Mansion: Soaring 1,000 feet above the city's skyline high in the West Hills of Portland, this century-old symbol is an architectural wonder. With picture-perfect views of rivers, forests, bridges and mountaintops, no other place in town offers a more breathtaking view.
Portland Art Museum: The oldest museum in the Northwest, the Portland Art Museum is internationally renowned known for its collection of Native American art and special exhibitions.
Hope to see you in Portland!