By Paula Polei As everyone finalizes their holiday feasts, we would like to take this opportunity to wish everyone a Happy Thanksgiving and to share some of our favorite craft beer cooking recipes with you. From appetizers to side dishes and desserts, we've tallied up our top three favorite recipes from around the Web.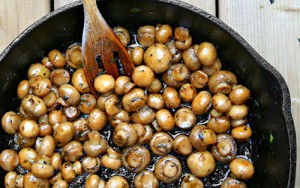 Beer Butter Mushrooms
The combination of beer and butter couldn't be more perfect in this recipe from
Killing Thyme
. If you love button mushrooms, then you'll love these beer butter mushrooms cooked with your favorite craft beer. We prefer to pair this recipe with an American-style brown ale, such as Lunar Ale from
Boulevard Brewing
.
Ingredients
4 cups of button mushrooms, washed
3 tablespoons of butter
1 cup of brown ale beer
1 tablespoon of fresh parsley, chopped
1 tablespoon of fresh thyme, chopped
Sea salt and ground black pepper to taste
Directions
Melt the butter in a skillet.
Add the washed mushrooms to the skillet and toss them around to coat.
Pour in the brown ale, and bring to a simmer on medium-low heat.
Add the fresh herbs, sea salt and ground black pepper.
Poach the mushrooms for approximately 30 minutes, stirring occasionally.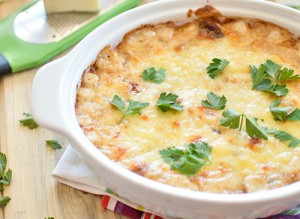 Beer Caramelized Onion Dip
This delicious beer caramelized onion dip recipe from
Cooking and Beer
is a must-have for your Thanksgiving feast. The three-cheese blend, mixed with the rich flavor of an IPA beer, makes this appetizer irresistible. We prefer the fresh, golden brew flavor of the Rail Splitter IPA from
Triton Brewing Company
.
Ingredients
3 Tbsp unsalted butter
1 Tbsp olive oil
2 Tbsp brown sugar
1 tsp salt
3 medium yellow onions, diced
1/4 cup IPA beer
1/2 cup mayo
1/4 cup cream cheese, softened to room temperature
1/4 cup sour cream
4 slices thick-cut bacon, cooked until crisp and chopped
2 ounces swiss cheese, grated
2 ounces sharp white cheddar cheese, grated
2 ounces gruyere cheese, grated
Crusty bread or tortilla chips, for serving
Directions
Combine the butter and olive oil over medium-high heat in a large non-stick skillet. Once the butter has melted, whisk in the brown sugar and 1 teaspoon of salt. Add the onions, and sauté on medium-high heat for about 5 minutes, stirring constantly. Lower the heat to medium-low and caramelize the onions for approximately 40-45 minutes.
Once the onions have just begun to brown, add the IPA beer and crank the heat back up to medium. Cook until the beer has cooked out and reduced and all you have left are the caramelized onions. This will take 5-10 minutes. Remove from heat and set aside to cool slightly.
Preheat your oven to 400°F.
In a medium bowl, stir together the mayo, cream cheese, sour cream, bacon, a dash of salt and pepper and most of the cheese (reserving about 1 ounce to sprinkle on top). Add the caramelized onions to the mixture and stir to combine.
Pour the mixture into an 8x8 inch baking dish, and smooth to even out. Sprinkle the remaining cheese on top and bake, uncovered, for about 20-25 minutes, or until the top is bubbly and just beginning to brown.
Remove from heat and serve immediately with crusty bread or tortilla chips.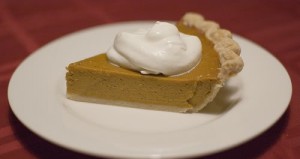 Pumpkinhead Pumpkin Pie
This recipe from
Shipyard Brewing Company
is an absolute must-have for your Thanksgiving feast. The crisp, refreshing wheat flavor of Shipyard's Pumpkinhead Ale provides a subtle spiced pumpkin flavor to this recipe.
Ingredients
1/2 cup Shipyard Pumpkinhead Ale
1 cup brown sugar
2 tbsp all-purpose flour
1/2 tsp cinnamon
1/8 tsp clove (pinch)
1/2 tsp nutmeg
1/2 tsp salt
1 - 15 oz can of pumpkin puree
1 - 12 oz can of evaporated milk
2 large eggs
1 pie crust
Directions
Preheat oven to 325 degrees.
If you are using frozen pie crust, thaw and roll out your crust or follow package instructions for pre-baking.
In a medium bowl mix together all ingredients. Place pie pan and crust on a cookie sheet. Pour the mixture into the pie crust.
Bake for 30 minutes.
Top with whipped cream and pecans. Slice and enjoy!
Never cooked with craft beer before?
Check out the
craft beer and food pairing chart
below that the
Brewers Association
publishes.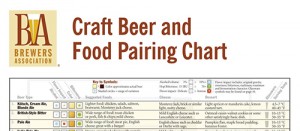 No matter what your tradition is this holiday season, remember to slow down and enjoy the simple pleasures in life – time spent with family and friends, good food and great craft beer. Cheers! BOB