By: Paula Polei More than 700 breweries. More than 3,500 different beers. Now that you've got tickets to the
Great American Beer Festival
, you need to figure out how you're going to sample dozens of beers, crammed into a few, short days. For those of you attending for the first time, here are a few tips on how to tackle GABF.
Drink water. Lots and lots of water.
The high altitude and dry air in Denver is sure to result in a hangover like you've never had before, but staying hydrated can help. Drink lots of water. But, don't wait until you are at the festival. Drink water as soon as you get to Denver. If you wait until you're already at the festival, it will be too late and you'll be so busy drinking beer that you'll forget water even exists. Also, there are water stations at the festival for a reason. Stop at them and stop often. Trust me.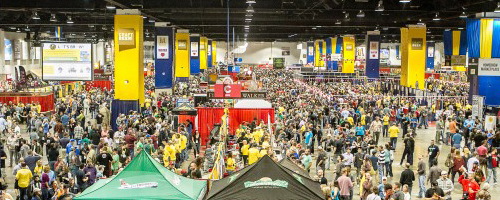 Photo courtesy of Brewers Association
Do your research.
The amount of beer available is just plain overwhelming. It's virtually impossible to sample all of them, so pick your beers ahead of time and stick to them. At my first GABF, I was unprepared and I regretted it. If you have a game plan going in, you'll get the most out of your experience. Yes, you have to try the classics, but also let your taste buds experience something new and different. If you are a newbie, check out
The Art of Drinking Craft Beer
blog for tips on the proper way to sample beer. Here's a list of unique styles you might consider trying: •
Gose
– An unfiltered wheat beer made with 50-60% wheat malt with a refreshing crispness. •
Wheat Wine
– An American strong ale containing 50% wheat malt. •
German-Style Eisbock
– Full body, full flavor and high alcohol content. Enough said? •
Berliner Weissbier
– Refreshing, tart, sour and acidic with a lemon-citric fruit sharpness, and almost no hop bitterness. •
Baltic Porter
– Dark brown style with smoky, roasted brown malts with the addition of a pleasant acidic flavor. For a complete rundown of
breweries
, check out the GABF website.
Don't arrive on time.
Instead of spending an hour or more waiting in line to get in, sit at one of downtown Denver's great craft beer bars. Then, walk over to the convention center around 6:00 or 6:30. This will still give you a good three hours of beer sampling time.
Eat, drink and be merry.
The keyword here is eat. Tackling GABF without a pretzel necklace to nosh on is a rookie mistake. Yes, you'll look ridiculous, but those salty pretzels will cleanse your palate between samples and prevent one beer's flavor from intruding on another's. Don't wait until you get inside the festival to eat. You may be disappointed in the food selection.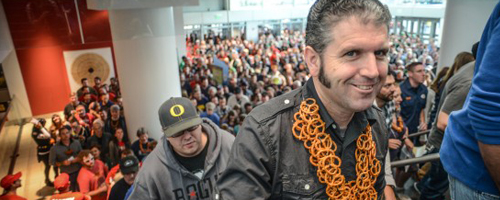 Photo courtesy of Brewers Association
Pace yourself.
Slow and steady is the game. GABF is a marathon – not a sprint. The high altitude in Denver mixed with sampling dozens of potent beers will catch up to you eventually. Take time to enjoy your sample pours and appreciate them. Hope to see you in Denver! Cheers!