By Paula Polei BOB works with several remarkable craft breweries that have established themselves in the marketplace with their great ideas, hard work and dedication. This blog is the first of several that we will run from time-to-time, highlighting BOB's craft beer buddies. In this first customer spotlight, we head to Indianapolis to speak with Jon Lang, Master Brewer/Founder, and David Waldman, Operations Director/Founder at
Triton Brewing Company
.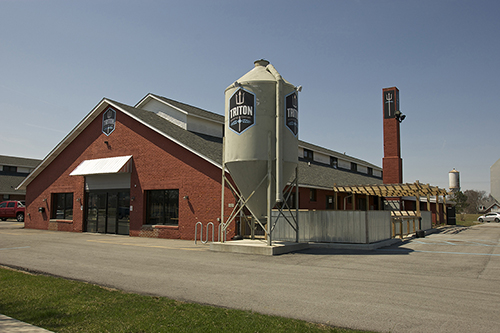 Triton Brewing Company in Indianapolis
How was Triton Brewing formed?
Waldman
: I met Jon in 2010 when we were introduced by a mutual friend. Personality wise, we hit it off from the very first meeting. We were the Yin and Yang. I was the fire. Jon was the ice. In 2010, we gathered supporters and investors to raise a million dollars in the worst economy in history.
Lang
: After several negotiations, we finally found a building. The building was in both Lawrence and Indianapolis, so there were nine agencies with whom to comply. The building, a former military mule barn at Fort Benjamin Harrison, at one time, housed 250 mules. Needless to say, the building was a retrofit. We demolished it, added electric and plumbing, installed a web server and made several other renovations, doing most of the demolition and construction ourselves. In the fall of 2011, Triton officially opened its doors.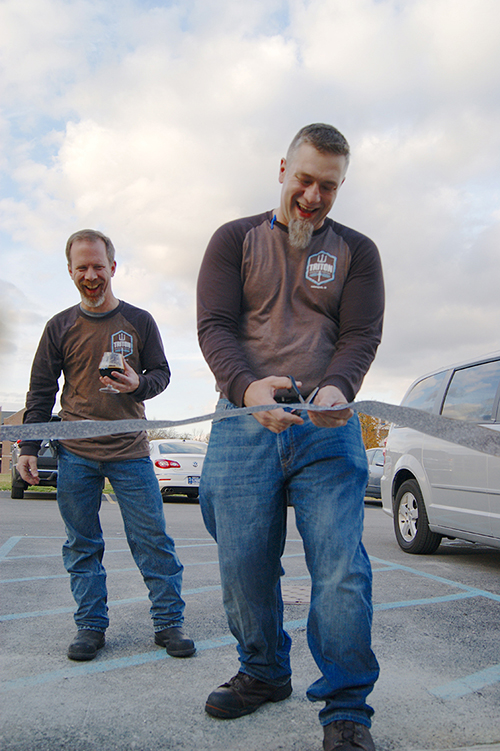 Pictured from left to right: Jon Lang and David Waldman
What makes your brewery unique?
Waldman
: Quality and consistency are key. Triton is committed to using the finest ingredients in our recipes to achieve and maintain such distinction in the quality of our beer. Triton's slogan "Better Water, Better Beer" is based on the idea that if the water isn't right, then the beer isn't right. Triton uses a reverse osmosis filtration system that allows us to strip water down to its core – two hydrogen atoms and one oxygen atom. The system gives us water that is 99.99% pure. From there, we build water "recipes" to make sure that the water used is perfectly calibrated. For example, IPAs can be made with other water, but it's a knockoff recipe. Triton goes out of our way to get the water right, so the beer is right.
What are some breweries you admire?
Lang
: The craft beer industry is fun. We aren't competitors. Other breweries are my friends, my colleagues. We share ingredients – hops, yeast, etc. There's a lot of camaraderie within this industry. I don't necessarily have a favorite brewery.
What's your favorite beer on tap?
Lang
: I enjoy all beer. I don't want to drink the same beer over and over. A person needs variety. You don't eat a hamburger every day.
How has the craft beer industry evolved since Triton officially opened its doors in 2011?
Waldman
: The competition in the marketplace and the explosion of new brands has changed dramatically. Craft beer is everywhere now, but we need more education in the marketplace. The market has evolved so quickly that the quality is now suffering. Sometimes beer sits too long, then when a customer orders a craft beer on tap, they order an aged beer.
Lang
: When we opened our doors in 2011, there were 60 craft breweries in the state of Indiana. Now, there are approximately 98 craft breweries. The industry is growing at a phenomenal rate. Hops have a three-year growth cycle, and fruity hops are difficult to get. The availability of ingredients could play a major role in the future.
Looking out three to five years, beyond the obvious trends, what do you think will be the next big change in the craft beer industry?
Waldman
: I think there will be lots of producers falter during the race to the marketplace. Many people don't fully understand quality and distribution associated with craft beer. The industry will most likely see a shake out of those folks and we'll see more large-scale, commercial brewing.
If you had a list of best kept secrets that you would recommend, which would you include and why?
Waldman
: Today there are more resources available than what we had several years ago. A few of my recommendations include:
Better Water, Better Beer
Triton brews many different kinds of beer, but they don't want you to only drink one of their beer styles, or to only drink Triton, for that matter. They want you to be a beer lover – someone who pays attention to nuanced flavors, who appreciates a great recipe, and who can tell a good story about the beers you love.

Triton's Railsplitter IPA
Looking Toward the Future
Since opening its doors in the fall of 2011, Triton has expanded twice, with capacity up 300 percent during the past three years. Within the next 18 months, Triton could easily double its production, and within the next five years will most likely need to find a larger location. In 2014, they produced close to 5,000 barrels, with a current capacity of 9,000.
The Men Behind the Barrel
Jon W. Lang,
Master Brewer/Founder
Jon is one of the longest tenured brewers in central Indiana. He was the Head Brewer for Barley Island Brewing Company from 2000-2009 and has won Gold, Silver and Bronze medals from the Great American Beer Festival and more than a dozen Indiana state medals. Jon is a Recognized Beer Judge for the Beer Judge Certification Program. In addition to his nationally recognized brewing skills, he enjoys restoring classic Porsches.
David M. Waldman,
Operations Director/Founder
David was formerly a successful pub owner and has more than 15 years of experience with logistics and operations in a variety of recreational environments. David has toured more than 300 microbreweries and breweries, and has been a beer snob since first tasting the frothy malt beverage.