By: Paula Polei
For our next customer spotlight, we head to Port Jefferson, New York to speak with Michael Philbrick, Brewmaster at Port Jeff Brewing Company. Mike Philbrick, the once Temple University Owl mascot, turned Masterbrewer, opened Port Jeff Brewing Company's doors in October 2011.
Take me back to the first time you dreamed about operating your own brewery. What led you down that educational/career path?
My dream started at my first homebrew, but was quickly squashed when it tasted like swamp water. As my skills improved it became more apparent that my dream was a possibility. That dream coupled with Long Island's then lack of breweries is what led me to take the steps toward educating myself to put the ball in motion to start Port Jeff Brewing Company.
Walk me through the step-by-step process that you went through to get to where you are today.
1. A nine month residency in a dark womb.
2. Growth spurts and regular attendance in the middle class education system.
3. Bad decisions, poor life choices and helpful friends and family.
4. Better life choices and graduation from a University.
5. Then girlfriend, now wife, buys me a brew kit the Christmas of 2000.
6. Brew a lot.
7. Dream.
8. Take ridiculous non-drug induced risks.
9. Put everything you make back into the business.
10. Repeat.
Tell me about a day in the life of Mike at Port Jeff Brewing.
I wear many hats at the brewery. Most of my day is consumed working with our distributors to ensure they have the beer they need to fulfill orders. I also spend time in the field selling with sales reps. Depending on the day, I might be accounting, purchasing agent, graphic artist, or event coordinator. Sometimes, I do all of these jobs at the same time.
What makes your brewery unique?
Our brewery is only 800 square feet, yet produces over 1,500 BBL per year in a spot that was formerly a year-round Christmas store.
Who's the mastermind behind your brew recipes?
I developed many of our recipes while home brewing. Matt, our head brewer, has tweaked a lot of them based on ingredient availability and taste. Matt has a few of his own gems in the mix. All of our beers do become a collaborative effort by our staff to try and create the best product we can.
What's the story behind Port Jeff Brewing Company's brand?
Port Jefferson is an old ship building community. At one time, it was one of the largest East Coast ports for Schooner production. I wanted to harness the community's history with my love for the water so we forged ahead with a nautical theme behind about 90% of our brands. It resonates well on our island, which has a very large beach and boating populous.
What's one word you would use to describe your brand? Why?
Nautical, because it is centered on boating and the water.
How do you market your brand?
We use social media and point-of-sale as our two main marketing approaches. I find that they both provide a more direct response then advertising in print, TV or radio. Beer comes down to choice most of the time, so being able to influence the buyer when they make that choice is more effective than the shotgun approach that main stream media takes.
What are the upcoming beer releases you have planned? How is the decision making process formed for these new releases?
Overboard - a Bourbon Barrel Aged Russian Imperial Stout is next up. We plan our releases based on what we think we will execute well and how it will fit into our current offerings. We have a barrel aging program and a sour program. I would be lying to you if I told you a great deal of our releases are not based off of what we want to make and drink.
How has the craft beer industry evolved since Port Jeff Brewing officially opened its doors?
It has basically doubled in size. Locally, I see a lot more nano breweries opening. I believe that to be the trend across the country. More breweries provide more choices for the beer lover. I think craft beer will continue to become localized to a greater level. That should further diversify styles and regions per style. It's a good thing.
What are some fellow breweries you admire? Why?
I try beers from everywhere because they are readily available and in the haunts I frequent. I tend to drink our local offerings from Long Island or New York City.
If you had a list of best-kept secrets (websites, books, etc.) you'd recommend, which would you include and why?
The BA Forum is your friend. You can find just about anything you need on there – be it hops, equipment or help. You will find it there if you ask. Join the Brewers Association.
When starting your own brewery, what tips can you recommend that you'd only share with a close friend (and everyone reading this blog)?
Budget wisely, then double it and remove the part where you get paid.
About Port Jeff Brewing Company
Port Jeff Brewing Company features a seven barrel system capable of producing 217 gallons (about 86 cases) per brew. Beers are packaged in keg, 22 ounce and special release bottle formats for distribution throughout Long Island, New York City, and West Chester County, New York bars, restaurants, and retail beer outlets.
The Man Behind the Barrel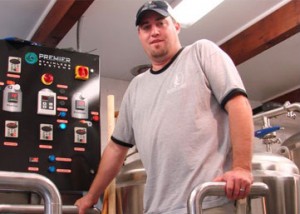 Mike Philbrick, Brewmaster
Mike Philbrick is a Port Jefferson resident who homebrewed for almost a decade prior to graduating from The World Brewing Academy at Siebel Institute in Chicago. His passion for craft beer led him to bring Port Jefferson their own brewery to showcase his recipes in the popular tourist town and beyond. When not brewing, Mike enjoys time with his wife, four children, and dog, Buddy, either boating or going to the beach.