By: Paula Polei Beer has always had a place as a travel companion, whether it's on a beach during vacation, relaxing while poolside, or sitting around a campfire. Craft beer drinkers sometimes trek hundreds of miles to visit their favorite breweries and attend their favorite beer festivals. With Spring Break just around the corner, it is only appropriate that BOB share his top "beercation" destinations with you. Instead of visiting some of the most popular Western craft beer destinations – Seattle, Portland and Denver – why not try something off-the-beaten-craft-beer-path this year? If you want to venture out, and are looking for something a little different, or maybe something a little closer to home, then check out these great craft beer cities.
Columbus, Ohio
The capital city of Ohio, and home to the Ohio State University Buckeyes, Columbus is known for its wealth of craft beer hotspots. Great brew pubs, nationally-rated beer bars, and several breweries are all within the cozy confines of the city. But, if you're only in town for a short period of time, we recommend visiting
North High Brewing
for a one-of-a-kind experience. North High Brewing offers a unique blend of experience, shopping and consumption. This microbrewery offers a full bar, as well as the opportunity to become a brewmaster for a day, creating your own blend of hand-crafted beer on its Brew-on-Premises equipment. With dozens of styles to choose from, their expert brewers will walk you through the process, ensuring that your very own 15 gallon batch of beer has the highest level of quality. If you want to truly experience brewing, this is the place for you. But, don't show up before 2:00 pm if you are visiting Monday through Thursday, or before noon on Friday, Saturday and Sunday.
Grand Rapids, Michigan
The second largest city in Michigan, Grand Rapids is known for its historic furniture manufacturing center and for its love of craft beer. In 2013, Grand Rapids won the "Beer City USA" award, a competition held by casting votes online for the best beer cities around the United States. Also named Beer Town USA from USA Today in 2015, Grand Rapids features more than 30 local breweries that produce an abundance of sensational brews. While you're in "Beer City USA," be sure to visit
Founder's Brewing
. Founder's has been ranked in the top breweries in the world by
RateBeer.com
for the last five years, and they have won six World Beer Cup medals and three Great American Beer Festival medals. While you're there, be sure to drink their signature brew – Founder's All Day IPA. This brew keeps your taste buds satisfied while keeping your senses sharp. This naturally brewed IPA has a complex array of malts, grains and hops, balanced for optimal aromatics and a clean finish. Or, if you love coffee, then you have to try Founder's Breakfast Stout. This brew has an intense fresh-roasted java with an abundance of flaked oats, bitter and imported chocolates, and two types of coffee.
Asheville, North Carolina
Home to the most breweries per capita in the United States, Asheville was rated one of "America's Best Beer Cities" in 2015 by The Huffington Post. This beautiful city offers dozens of microbreweries that dot the downtown area. While you're in downtown Asheville's Brew District, be sure to visit
Hi-Wire Brewing
. Hi-Wire Brewery is well-known for its light-hearted circus theme. Hi-Wire features four approachable year-round "Main Attraction" beers – Prime Time Pale, Hi-Pitch IPA, Bed of Nails Brown and Hi-Wire Lager – all must tries while you're there. If you are planning a trip to their tap room, don't show up before 4:00 pm Monday through Friday, before noon on Saturday, or 1:00 pm on Sunday. The brewery also offers tours on Friday evenings at 5:00 pm and 6:00 pm, and private group tours by appointment.
Washington, D.C.
Best known for its monuments, the Capital City also has a lot to offer when it comes to craft beer. During the past decade, the D.C. craft beer scene's cup has runneth over as bars and restaurants continue to pump up their offerings. With an abundance of microbreweries opening in and around the District, there are plenty of locally made options available. If you're looking to explore D.C.'s emerging craft beer scene, consider taking a trip to
Atlas Brew Works
. This brewery produces hand crafted artisanal beer in 20 barrel batches, while offering tastings, tours or a growler (or two) to go. From flagship brews to seasonal selections, Atlas Brew Works has something for every craft beer lover. A few favorites are the Ponzi American IPA – hopped with criminal disregard – and the 1500 South Cap Lager – a Washingtonian take on a traditional German Helles. Tours are offered on Saturdays at 2:00 pm, 4:00 pm and 6:00 pm, with no appointment necessary. Their tasting room is open from 5:00 pm to 8:00 pm on Friday and 1:00 pm to 8:00 pm on Saturday and Sunday.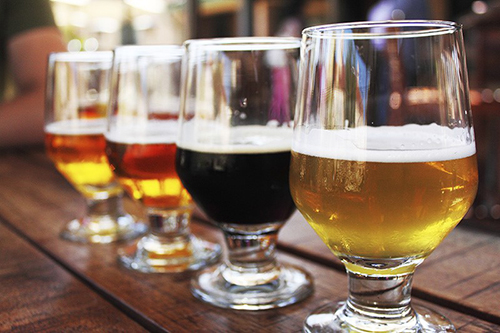 Coming to a Town Near You
With the number of breweries steadily increasing, it's almost impossible to not find a brewery near you. As of Nov. 30, 2015, the Brewers Association announced that there are 4,144 breweries operating in the U.S. And, according to the Brewers Association, approximately 75% of adults ages 21 and over live within 10 miles of a local brewery.

Infographic courtesy of the Brewers Association
So, no matter where you'll be spending your Spring Break this year, we hope you'll take time to enjoy some great craft beer along the way. Cheers!