In mid-March, growing concern over the COVID-19 pandemic forced breweries into a difficult corner, as states issued orders closing taprooms across the country. Then, almost as quickly as some states started to reopen, a growing number of states began pausing plans to reopen or re-imposing restrictions previously lifted, amid rising positive coronavirus cases.
These past several months have challenged breweries to find new ways for customers to enjoy craft beer outside the taproom. Many states eased restrictions on sales, removing limits on amounts of beer that customers could purchase to-go, allowing online orders with curbside pickup, and eliminating restrictions on remote ordering and delivery.
The industry quickly rallied together to find new, creative ways to get product to their customers and selling beer-to-go became the norm.
Growlers-to-go
Breweries that already packaged beer turned to 64oz Growlers to support their new to-go business models. Other breweries that sold draft beer exclusively also turned to growlers.
Growlers are a staple of American beer culture and a symbol of the microbrewing revolution. For much of craft beer's history, growlers were the primary mode of taking beer home from a small brewery or brewpub. Although its popularity has transformed over the years, it remains a fixture in most breweries.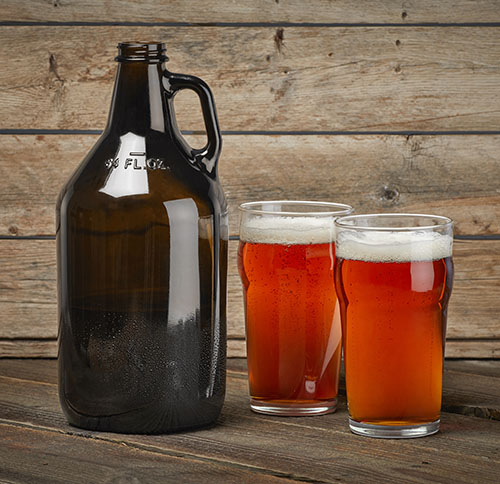 Buy direct from BOB
Fill. Drink. Repeat. If you are looking for growlers to support your brewery's beer-to-go business, BOB's 64oz Growler will allow your customers to enjoy their favorite draft beer in the comfort of their home. These bottles are made using high quality, traditional amber glass, made right here in the U.S.A. The Growler comes pre-packaged in plain craft cardboard cases with partition dividers holding six glass bottles per case. If you want to check out a sample before you order, you can request a bottle sample here.
Cheers!
BOB