October 11-13, 2012 is primed to be a record-breaking weekend: 2,700+ beers from over 500 American breweries served at the same time in the same room! The Great American Beer Festival in Denver, CO will play host to the feat, a new record for most American beers served at once. And guess who's going?
This guy.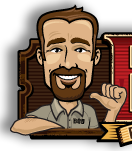 And you could be too!
If good beer is your thing, consider the Great American Beer Festival the Starbucks of suds; the Ferrari of fermented beverage; the Mecca of microbrews; the (Justin) Bieber of beer festivals. For three days, a host of the nation's breweries will descend on the mile-high city to spread tidings of good beer to faithful pilgrims from near and far. The beer hall is arranged by region, so festival goers can reenact the history books and lay claim to previously uncharted American territories. And much like the U.S. population, GABF's attendance continues to grow; this year's festival will accommodate 50,000+ guests, and tickets sold out in only 45 minutes! But you're in luck – on 10/2/2012, we're giving away 15 pairs of FREE TICKETS to GABF, and all you have to do for a chance to win is "Like" us on Facebook.  BOB would love to have a beer with you in Denver – we'll let you decide which of the 2,700 it'll be.
Click here for more details about the giveaway or here to find out more about the Great American Beer Festival.